EZ PZZZ
Just unbox and go.
Sleep on it
100-night money back guarantee.
10 year warranty
Guarantees a decade of snoozing.
Assembled In Canada
By People We Know
Level up to a hybrid mattress
Individually wrapped coils or gel memory foam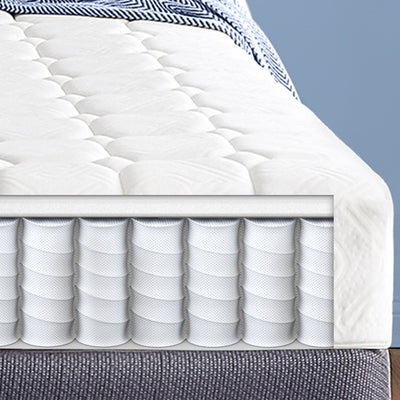 Dimensions
TWIN
74.5" L x 38" W x 8" H
Box: 17" L x 17" W x 42" H
Foam: 26 lb
Hybrid: 41 lb
TWIN XL
79.5" L x 38" W x 8" H
Box: 17" L x 17" W x 42" H
Foam: 28 lb
Hybrid: 42 lb
FULL
74.5" L x 53" W X 8" H
Box: 17" L x 17" W x 42" H
Foam: 36 lb
Hybrid: 53.5 lb
QUEEN
79.5" L x 60" W x 8" H
Box: 17" L x 17" W x 42" H
Foam: 42.5 lb
Hybrid: 66 lb
KING
79.5" L x 76" W x 8" H
Box: 17" L x 17" W x 42" H
Foam: 55.3 lb
Hybrid: 78 lb
The cover of the mattress was not meant to be removed to be washed or dry cleaned. It should be spot cleaned only with a damp cloth. If the mattress cover is removed, the mattress warranty is void.
Do not use cleaning fluids or any type of fabric protection application on your mattress; it may damage some of the materials.
The use of a mattress protector is suggested to help prevent accidents, spills or just to keep your mattress clean.
These mattresses were made so you do not have to flip your mattress. Rotating your mattress helps even out wear.
Do not fold, stand or jump on product as damage can occur. If you need to move your mattress, carton or bag it and carry it on its side to avoid damage.
If you store the mattress, it must be laid flat to avoid shifting of the comfort layers.
If your mattress contains memory (viscoelastic) foam, do not use a heating pad or electric blanket.
Refer to your mattress law tag for contents of your mattress.
Do not remove or discard the white law labels or the model name label.
These labels serve as a means of identification to establish your warranty rights. If you choose to remove the labels, keep them in a safe place.
Using the mattress without a foundation or box spring requires a support system like a platform bed:
Support systems with slats spaced LESS than 2" apart must include a head-to-foot lengthwise center support with at least one centrally-located leg that extends to the floor.
Support systems with slats spaced MORE than 2" apart must include a solid wooden, plastic, or similarly rigid surface between the mattress and slats to bridge the spaces, and a head-to-foot lengthwise center support with at least one centrally-located leg that extends to the floor.
Any support system that does not fit within the above descriptions must at minimum provide a rigid platform with adequately distributed supports extending to the floor. Determination of whether a support system is adequate is at the sole discretion of Serta Simmons Bedding. The use of any platform that lacks support as outlined above may result in damage to your mattress that will void your warranty.
For all adjustable foundations, please see the owner's manual for required safety, support, and warranty coverage.
There is no weight limit for these mattresses. The frame/support underneath the mattress would yield prior to damage occurring to the mattress.
Shipping
Once you've placed your order, our products should arrive within 3-7 days with delivery Monday through Friday, excluding holidays.
Returns/Refunds
We want you to love your new Simmons mattress, but if you don't, you can return it within 100 days for a full refund. We recommend you give it 14 days to adjust to your new mattress and if you still don't love it…no problem! Begin the process by emailing us at help@simmonscanada.com to get your return started. You will need to provide proof of purchase as well as the law tag. If you've already unboxed your mattress, you won't be able to physically return it. But don't worry, Simmons will work with you to find a local donation center so we can avoid throwing away a perfectly good mattress. Upon proof of donation, we'll issue a refund to the original form of payment. The Customer Care Team will help you with the rest. Easy Pzzz!
Our return policy only allows for one return per household per year, so we can only return and refund one mattress purchased within the same year.
If you purchased a Simmons product on one of our partner sites, please check with them on their return policy.
Still more questions? Contact us